·The list of pilot enterprises for parallel import of cars in the Free Trade Zone was first released
According to Xinhua News Agency, the Shanghai Free Trade Zone's pilot project of "parallel import of automobiles" has made new progress. The Shanghai Municipal Commission of Commerce announced the first batch of 17 pilot enterprises on the 10th. This means that parallel imported cars that were previously in the gray area can be sold in a sunny manner, changing the pattern that consumers can only buy cars from a single channel in 4S stores.
Parallel imported cars refer to cars that are not authorized by the brand manufacturer and purchased by the traders from overseas markets and introduced into the Chinese market for sale. According to the notice of the Shanghai Municipal Commission of Commerce, there were 17 companies in the first batch of pilot projects, 8 of which were Shanghai enterprises and 9 were foreign provinces and municipalities. These approved pilot enterprises can start selling parallel imported cars after completing the procedures for automatic import licenses for mechanical and electrical products.
At present, in the Shanghai Free Trade Zone, dealers have begun to accept consumer bookings for parallel imported cars. According to the sales staff's quotation, the BMW X5 and other luxury cars imported in parallel are at least 10% cheaper than the domestic 4S shop.
Although the price of parallel imported cars is relatively cheap, the short board is that they cannot enjoy the three bags and after-sales service of domestic brand 4S stores. To this end, relevant parties have begun to build a comprehensive maintenance service center near the free trade zone to provide after-sales service for parallel imported cars to eliminate the worries of consumers.

CHANGZHOU SULI DRYING EQUIPMENT CO.,LTD.specializing in the production of Mixing Dryer, Spray Dryer, Granulation Dryer, Crushing Dryer, Efficient High Speed Mixing Granulator and V-shaped Mixer.




Sale services
Our experienced technicians is available on the phone also the internet, clients can get instance guidance by telephone, email, online service anytime, anywhere.

After-sale services

Normally, the equipment warranty is 12 months since installation. To establish long term cooperation, we will regularly call and email our clients, to check the equipment working condition, offer suggestions for maintenance.




Product introduction:
Screw mixing working principle is adopted for YMMX series of large-capacity Vertical Mixer. Firstly, feed the material into the hopper, then the screw conveys the material to the top of the barrel, and the material drops as umbrella-shaped and keep mixing to mix material well.
Functions of YMMX series of large-capacity vertical mixer: automatic working timing, overloading protecting, alarm for feeding limit.


Applications:

Grain products of plastic, crushed material, flakes of plastic, new and old mixed plastic material. pigment adding and mixing.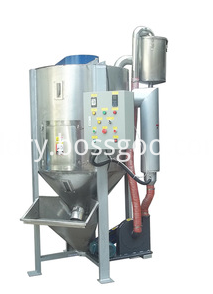 Horizontal Ribbon Mixer,Double Conical Mixer,Slot Shape Mixer,Vertical Mixer

Changzhou Su Li drying equipment Co., Ltd. , http://www.sldrying.com