Japan's Kyoto Electric Remanufacturing Retro Sports Car
A Japanese venture company rejuvenated the former sports car in the form of EV (Pure Electric Vehicle) by condensing the power of Kyoto. The company also plans to separately market an EV platform that is a basic part of the vehicle in order to expand its business and accelerate its adoption.

A car, known as the Dreamliner, which launched 206 vehicles in the second half of the 1990s, was revived in July 2014.

The revived car name is still called "Tommykaira ZZ". Tommykaira is a sports car brand developed by "Tomita Dream Factory", which is known for selling and refitting imported cars. In 2003, Tomita Dream Works went bankrupt due to operational difficulties and vehicle development was interrupted. However, GLM, a venture company from Kyoto University, was revived in the form of EV and started commercial sales again.

The car's body weight is only 850kg, which is equivalent to a light car. At the same time, it has the powerful acceleration performance from zero acceleration to 100km/h in 3.9 seconds, and the unique driving quietness of EV. The vehicle retains its original logo, and it only follows the current legal system to improve its design.

After the car had been booked for a limited quantity (99 vehicles) from May 2013, although the price was as high as 8 million yen, the number of reservations still exceeded 180, which is twice as much as expected. After obtaining the safety certification of the Ministry of Land, Infrastructure, Transport and Tourism of Japan, the car has been delivered since July 2014.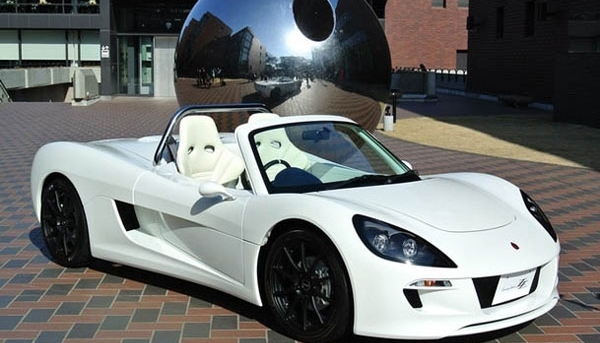 Electric revival supercar

Ten production starts per month from 2015

Compared with gasoline vehicles, EVs powered by motors and batteries have lower barriers to entry and there are more venture companies and universities in developing EVs. However, the EV has a high threshold for mass production and commercialization, and the number of venture companies that can eventually launch a commercial business is almost zero. According to reports, on the premise of mass production of EV, in addition to large car manufacturers, GLM is the first company to obtain domestic certification in Japan.

At present, technicians are hand-manufacturing EVs one by one in the corner of the site of the Nissan body Kyoto factory in Uji, Kyoto. Therefore, only a few cars have been delivered so far. GLM plans to start mass production at Maizuru City, the consigner's factory, at a rate of 10 vehicles per month in 2015, and complete 99 delivery tasks in 2015.

Yukang, the president of GLM, said with a smile: "We intend to constantly change the traditional wisdom of the automotive industry."

GLM was founded in 2010. Its predecessor was a project team that cooperated with the government officials of Kyoto University to develop EVs. At the time, a small room at Kyoto University Graduate School of Business Administration established GLM in order to take over the project. The reason for choosing a sports car business is to consider that "if it is a very rare car, small batch production can also cope with it."

Shortly after its founding, GLM knew Tommykaira. A former employee of Tomita DreamWorks came to apply for a GLM technician. The company learned from its mouth that although some sports cars still had more than 400 orders left, they had to suspend sales because of the impact of Japan's amendment to the "Security Standards Act." The president of the small room was consciously aware on the spot: "Need to revive the sports car through EV."

When the president of the small room visited the founder Tomita Yoshimitsu of Tomita Dream Works and said such an idea, the other party was very much in favor of reviving the sports car in the form of EV. Thus, GLM inherited the Tommykaira brand and design drawings. This is the beginning of the Tommykaira ZZ replica project.

According to GLM, the company's original idea was very simple. It is believed that by keeping the original design, if the petrol car is changed to EV, the product can be realized. However, after the company produced the trial car, it found that it could not make the body design meet the current safety standards.

So, GLM decided to start designing the body again. In addition, the body incorporates unique design methods and production techniques that are not available to large automotive manufacturers.

Pursue "Made in Kyoto" style

First, in terms of design, the "platform" that is the basic part of the car body and the "car body" that forms the exterior of the car are completely separated. The platform has all the components needed for driving such as aluminum chassis, motors, batteries, suspension and steering systems, and it can be driven almost on a platform. Then just put different bodywork on the model.

In order to create such a platform, the goal of a president of a small room is to establish a "horizontal divisional" procurement system that can take advantage of Kyoto's position. The reason for this is that if you rely on the strength of the powerful component manufacturers in Kyoto, you can shorten the development cycle and save on logistics costs.

The idea of ​​a president of a small room was endorsed by about 20 companies headquartered in Kyoto, such as Nichicon and GS Yuasa Corporation. GLM focuses on the development of basic technologies and safety technologies for car bodies. Other companies are responsible for the development of the required components, thereby realizing a division of labor cooperation system. First, the parts produced by each company are brought together in a mass production factory, and then the parts are assembled like a plastic model.

Since 2015, GLM plans to sell its own platform in addition to the mass production of Tommykaira ZZ. Thanks to the certification of the Ministry of Land, Infrastructure and Transport, and its overseas focus, the company received consultations from many companies. According to the company's introduction, some people even want to buy in batches of 100 units.

It is because of GLM's experienced personnel that this time it was possible to redesign the car body. People who came from large automakers were challenged by EV sports cars and joined GLM. In the technical camp consisting of about 10 people, many people jumped from companies such as Daihatsu Industries and Honda. Rattan Yuki, who has spent 7 years in body design work in the Toyota Lexus Division, is also a member. Despite the strong opposition from the surrounding people, Fujin took the job to GLM, saying that he "wanted to make cars from scratch." Although the salary was only one-third of the original, he smiled and said, "Because we are free to challenge, we are happy. We do not regret it."

Regarding the future plan of GLM, the president of the small room said, "The most important task at present is to hand over the 99 vehicles that received the orders to the customers." At the same time, the company is still developing new models after Tommykaira ZZ and plans to begin commercial sales by 2016. The two businesses of new car sales and platform sales will become the company's future earnings pillar.

The success of the EV venture company, the United States Tesla Motor Company is a model. If the unique strategy of selling EV platforms to the outside world is on track, it will no longer be a dream for GLM to become "Kyoto Tesla".

Cold die forging, cold extrusion, cold upsetting and other plastic processing.Cold forging is the forming process under the re-crystallization temperature of materials.It is customary to refer to the forging of unheated blank as cold forging.Cold forging materials are mostly aluminum and some alloys, copper and some alloys, low carbon steel, medium carbon steel and low alloy structural steel with low deformation resistance and good plasticity at room temperature.Cold forging good surface quality, high dimensional precision, can replace some cutting processing.Cold forging can strengthen metal and improve the strength of parts.

Cold Forging Parts

YaoPeng Metal Products Co., Ltd. , http://www.ypmfg.com