Analysis of Global Top 30 Auto Parts Suppliers and Latest Trends in Major Fields
This article ranks the global parts and components manufacturers according to the 2016 annual sales (compare car sales of each plant to US dollars for comparison, including partial calculation data). The top 5 are Bosch, Denso, Magna, ZF, and Hyundai Mobis. The acquisition of ZF's ZF has risen from No. 6 in the previous year to No. 4.

At present, the entire automotive industry and the major automotive market are advancing the development of ADAS/autopilot and electrification. In order to adapt to changes in the business environment, large-scale supporting plants plan to revise their business strategies, expand investment, and develop new products and services. Most of the supporting plants will change the operating system that relies on the auto parts business and are committed to the diversification of the business.

2016 Top 5 Automotive Sales of Supporting Plants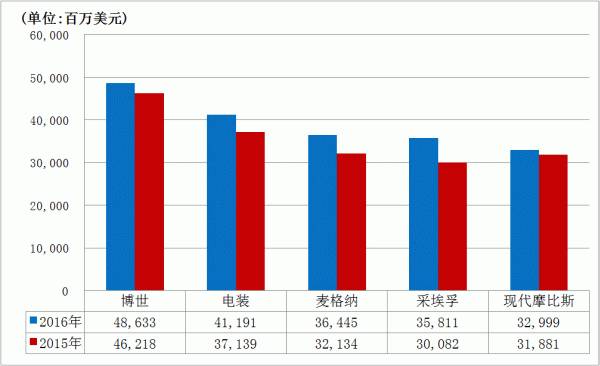 2016 annual sales of supporting plants automotive business

The auto industry of the supporting plant in 2016 (Note 1) The top 30 list is basically the same as the previous year. The top five are Bosch, Denso, Magna, ZF, and Hyundai Mobis. In May 2015, ZF's acquisition of ZF (Note 2) rose from No. 6 in the previous year to No. 4. Johnson Controls and Adient, which were split in October 2016, ranked 8th and 12th, respectively.

(Note 1) The sales of automobile business of each accessory factory were converted into USD for comparison. Contains partial projection data.

(Note 2) After the acquisition of TRW in 2015, its sales will be included in the consolidated statement starting from May 15. From 2016, it will be included in the scope of the annual report.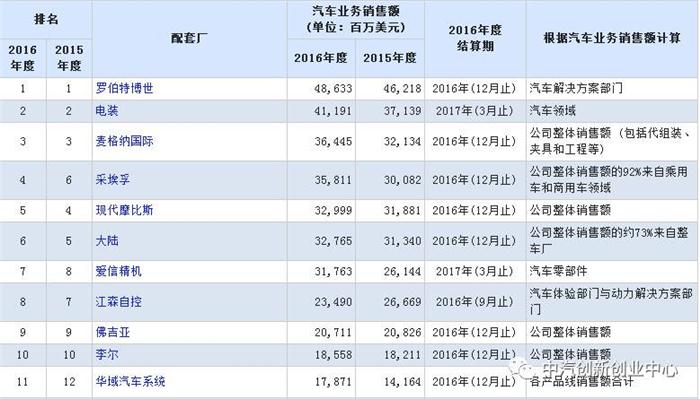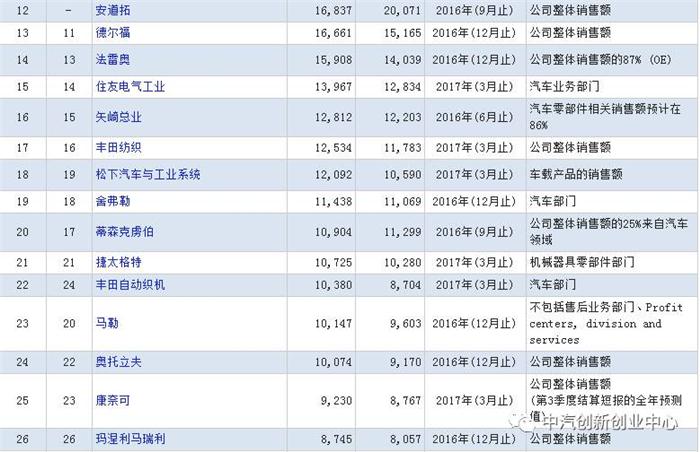 exchange rate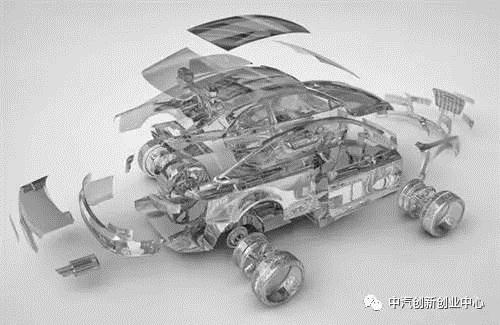 Recent trends in Bosch, Denso, ZF's autopilot, and electrification

At present, the entire automotive industry and the major automotive market are advancing the development of ADAS/autopilot and electrification. OEMs and parts manufacturers have increased cooperation with motors and electronics manufacturers, as well as mobile and software related companies. Cooperation, semiconductor, chemical and other different industries are also expanding their participation in the automotive industry. In order to respond to changes in the business environment, large-scale supporting plants plan to revise their business strategies, expand investment, and develop new products and services.

With the CES exhibition held in Las Vegas in January 2017, the recent exhibitions have seen the development of products, services, and technologies in the areas of Internet of Things (IoT), Netlink Automotive, and mobile travel. Fast forward. Bosch, Denso and other large-scale supporting plants demonstrated the products such as the autopilot system and the electrified system formed after the integration of the components and software of the Group and its partners. In the field of new technologies such as power semiconductors, high-definition cameras, map information, and wireless over-the-air (OTA) upgrades, it has often been reported in recent days that these large-scale supporting plants cooperate with professional institutions and companies to form capabilities that can quickly adapt to new trends. On the other hand, it will also change the operating system that relies on the auto parts business and is committed to the diversification of the business.

Bosch's business trends

Bosch plans to become the world's most advanced IoT enterprise by 2020, and in the automotive solutions business (automotive related), it proposes to become the world's leading supplier of electrification, autopilot, and vehicle networking. On the other hand, through the acquisition of BSH Hausgerte, the company plans to expand the sales of the consumables department and improve the balance between the automotive solutions business (60% of sales) and other businesses.

Bosch's Recent Trends in Automated Driving and Motorized Fields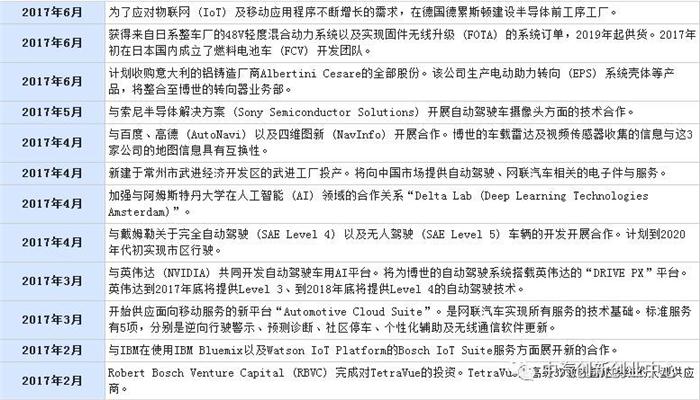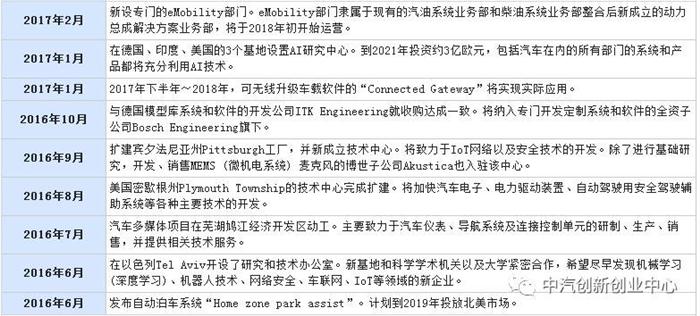 To address the growing demand for Internet of Things (IoT) and mobile applications, a semiconductor pre-processing plant was built in Dresden, Germany.

In June 2017, a 48V mild hybrid system from Japanese automakers and system orders for firmware upgrade (FOTA) were acquired and will be available in 2019. In early 2017, a fuel cell vehicle (FCV) development team was established in Japan. In June 2017, it plans to acquire all the shares of Albertini Cesare, an Italian aluminum foundry. The company produces products such as electric power steering (EPS) system housings and will be integrated into Bosch's steering gear business. Cooperated with Sony Semiconductor Solutions to develop a camera for autonomous vehicles.

Collaborate with Baidu, AutoNavi, and NavInfo. The information collected by Bosch's on-board radar and video sensors is interchangeable with the map information of these three companies.

In April 2017, the new Wujin plant in Wujin Economic Development Zone, Changzhou was put into production. The Chinese market will be provided with auto parts and related electronic parts and services. In April 2017, we strengthened the Delta Lab (Deep Learning Technologies Amsterdam) partnership with the University of Amsterdam in the field of Artificial Intelligence (AI). In April 2017, we cooperated with Daimler on the development of SAE Level 4 and SAE Level 5 vehicles. It is planned to realize urban driving by the beginning of the 2020s. In March 2017, we developed the AI ​​platform for autonomous vehicles with NVIDIA. Bosch will use the DRIVE PX platform for Bosch's automated driving system. Yingwei will provide Level 3 by the end of 2017 and Level 4 autopilot by the end of 2018. In March 2017, the company launched the "Automotive Cloud Suite", a new platform for mobile services. It is the technical basis for all the services of Netlink Automotive. There are five standard services, namely, reverse driving warnings, predictive diagnosis, community parking, personalized assistance, and wireless communication software updates. February 2017 New collaboration with IBM on Bosch IoT Suite services using IBM Bluemix and Watson IoT Platform. February 2017 Robert Bosch Venture Capital (RBVC) completed its investment in TetraVue. TetraVue is a large supplier of advanced 3D laser radar systems. In February 2017, a new eMobility department was established. The eMobility division is a newly established powertrain solution business unit affiliated with the existing Gasoline Systems Business Unit and the Diesel Systems Business Unit, which will begin operations in early 2018. AI research centers are set up in three bases in Germany, India, and the United States. By investing approximately 300 million euros in 2021, systems and products in all sectors, including automobiles, will make full use of AI technology.

In January 2017, the second half of 2017 to 2018, the "Connected Gateway" that can wirelessly upgrade automotive software will be implemented. ITK Engineering, a development company with the German model library system and software, agreed on the acquisition. It will include Bosch Engineering, a wholly-owned subsidiary specializing in the development of custom systems and software.

Expanded the Pittsburgh plant in Pennsylvania and established a new technology center. Will work on the development of IoT networks and security technologies. In addition to conducting basic research, Akustica, a Bosch subsidiary that develops and sells MEMS (microelectromechanical systems) microphones, also enters the center.

In August 2016, the technical center of Plymouth Township, Michigan completed its expansion. It will accelerate the development of various major technologies such as automotive electronics, electric drive devices, and safe driving assistance systems for autonomous driving. The car multimedia project started in the Wujiang Oujiang Economic Development Zone. It is mainly devoted to the development, production and sales of automotive instruments, navigation systems and connection control units, and provides related technical services.

In June 2016, a research and technology office was opened in Tel Aviv, Israel. The new base closely cooperates with scientific academic institutions and universities and hopes to find new companies in the areas of mechanical learning (deep learning), robotics, network security, car networking, and IoT as early as possible. In June 2016, an automatic parking system "Home zone park assist" was released. It plans to launch into the North American market by 2019.

Electric installation business trends

Denso established the "ADAS Promotion Department" in January 2016 and the "Electrification System Business Group" to deal with the development of automotive electric vehicles in January 2017. It proposes to increase sales in the information security field to 1 trillion days by 2020. The goal of the yuan. On the other hand, Denso also announced in September 2016 that it is currently reorganizing the business system. In order to realize a business structure that is not affected by the sales of new vehicles, it will create eight new business areas such as security, information solutions, and biology.

Recent trends in electric driving and electric drive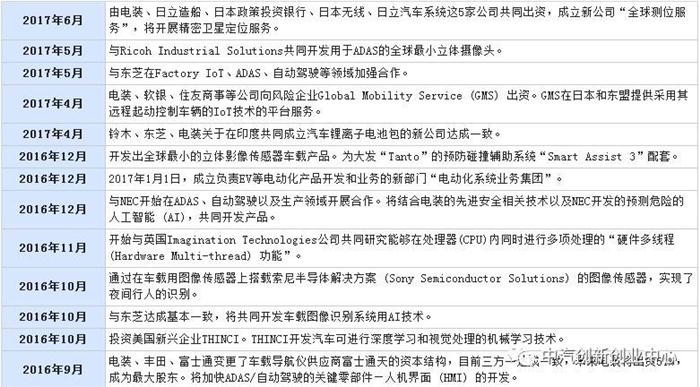 The five companies, Denso Corporation, Hitachi Shipbuilding, Japan Policy Investment Bank, Japan Wireless, and Hitachi Automotive Systems, jointly funded the establishment of the new company "Global Positioning Service," and will carry out precision satellite positioning services.

Jointly developed with Ricoh Industrial Solutions to develop the world's smallest stereo camera for ADAS.

In May 2017, we strengthened cooperation with Toshiba in areas such as Factory IoT, ADAS, and autopilot. Denso, Softbank, Sumitomo Corporation and other companies contributed to the Global Mobility Service (GMS), a venture company. GMS provides platform services in Japan and ASEAN using its IoT technology for remote start control of vehicles.

In April 2017, Suzuki, Toshiba, and Denso agreed on a new company that will jointly establish a lithium-ion battery pack for automobiles in India. In December 2016, it developed the world's smallest stereoscopic image sensor vehicle-mounted product. For Dafa "Tanto" Collision Prevention Assist System "Smart Assist 3". December 2016 On January 1, 2017, we established the new department "Electrified Systems Business Group" responsible for the development and business of electric products such as EVs. In December 2016, we started cooperation with NEC in ADAS, automated driving and production. We will jointly develop products based on Denso's advanced safety-related technologies and the dangerous artificial intelligence (AI) developed by NEC. Started work with Imagination Technologies of the United Kingdom on the "Hardware Multi-threading" function that can perform multiple processes simultaneously in a processor (CPU).

By incorporating an image sensor from Sony Semiconductor Solutions on a vehicle-mounted image sensor, nighttime pedestrian recognition was realized.

In October 2016, we agreed with Toshiba to jointly develop AI technology for vehicle-based image recognition systems. In October 2016, it invested in the American startup THINCI. THINCI develops mechanical learning techniques for deep learning and visual processing. Denso, Toyota, and Fujitsu have changed the capital structure of Fujitsu-Tian, ​​a supplier of car navigation systems. At present, the three parties have reached an agreement. In the future, Denso will invest 51% and become the largest shareholder. The development of HMI, a key component of ADAS/autopilot, will be accelerated.

In August 2016, he signed a technical consultancy contract with Professor Wu Jinxiu, a professor at Whitaker College of Carnegie Mellon University. It will accelerate the development of technologies in the field of image recognition and mechanical learning in the automotive industry. Funded NTT Data MSE to develop automotive platform software.

In April 2016, the new company "DENSO ADAS Engineering Service" was established to develop image recognition technology in Germany.

ZF Business Trends

ZF completed the acquisition of TRW in May 2015 and plans to become the leading supplier of ADAS/autopilot in combination with ZF chassis, transmission technology, and TRW's electronic control technology such as cameras, radars, and controllers. . ZF R&D spending in FY 2016 increased to 5.5% of sales (less than 5% as of FY2015), mainly to the Active & Passive Safety Technology division dedicated to ADAS/autopilot technology and the promotion of electrification technology E-Mobility department.

ZF's Recent Trends in Automated Driving and Motorized Fields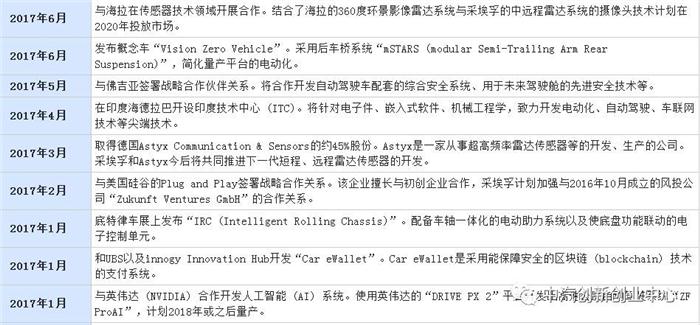 Cooperation with Hella in sensor technology. The camera technology that combines Hella's 360-degree panoramic video radar system with ZF's midrange and long-range radar systems will be launched in 2020.

The concept vehicle "Vision Zero Vehicle" was released in June 2017. The rear axle system "mSTARS (modular Semi-Trailing Arm Rear Suspension)" is adopted to simplify the electrification of the mass production platform. Signed a strategic partnership with Foglia. It will jointly develop an integrated safety system for autonomous vehicles and advanced safety technology for future cockpits.

Established the Indian Technology Center (ITC) in Hyderabad, India. We will develop cutting-edge technologies such as electrification, autopilot, and car networking technologies for electronic parts, embedded software, and mechanical engineering.

In March 2017, it acquired approximately 45% of the shares of Astyx Communication & Sensors in Germany. Astyx is a company engaged in the development and production of ultra-high frequency radar sensors. ZF and Astyx will jointly promote the development of next-generation short-range and long-range radar sensors. In February 2017, the company signed a strategic partnership with Silicon Valley's Plug and Play. The company specializes in cooperation with start-up companies and ZF plans to strengthen its partnership with "Zukunft Ventures GmbH", a venture capital company established in October 2016. The IRC (Intelligent Rolling Chassis) was released at the Detroit Auto Show. Equipped with an electric power assist system integrated with the axle and an electronic control unit that enables the linkage of chassis functions.

In January 2017, we developed "Car eWallet" with UBS and innogy Innovation Hub. Car eWallet is a payment system that uses secure blockchain technology. Developed artificial intelligence (AI) systems with NVIDIA. Developed the "ZF ProAI" highway autopilot system using NVIDIA's "DRIVE PX 2" platform, which is scheduled for mass production in 2018 or later.

Openmatics, a professional supplier of after-sale car networking products under ZF, has released APP "Dashboard" for fleet operators such as car rental and car sharing service companies. "Dashboard" can display fleet vehicles in real-time on a digital map and perform analysis. It will also provide various evaluation indicators (KPIs) such as vehicle usage, service demand forecast, and vehicle location.

Released the cloud-based X2Safe intelligent algorithm. The algorithm will be used as the basis for inter-vehicle communication and inter-vehicle communication systems. Through communication with vehicles, smart phones, and smart watches, cloud networks between cars and road users will be established.

The driving test of the autopilot system was performed around the technology center transferred to Farmington Hills, Michigan, USA. Development of cameras, sensors, radar, and software for systems such as adaptive cruise control, lane maintenance assistance, and emergency braking. The goal of ZF TRW is to realize the practical application of automatic highway driving systems in the United States in 2018.

Acquired a 40% stake in German software company doubleSlash Net-Business. Will strengthen the vehicle network field.

Invested approximately EUR 2.9 million in the radar plant in Brest, France. At this base, a trial run of the highway driving assistance function "Highway Driving Assist Multi-Lane" was carried out. Demonstration vehicle configuration ZF TRAC "AC1000" radar, next-generation camera system, belt-driven electric power

Steering System

, electronic stability control system.




The professional equipment applied for automatic assembling of the automotive Starter, and integrated with functions of robot feeder, electrical performance tester as well as visual system. Possible for you to adjust parameters for data analysis and quality control. JINLAN provides you complete solutions for start production, including assembly solutions of drive shaft, ORC drive gear and electromagnetic switch as well as the tests related.

Starter General Assembly Line,Starter Assembly Line,Vehicle Starter Assembling,Automatic Starter Assembling Line

Wujiang Jinlan Machinery Manufacture Co.,Ltd , https://www.jinlan-technology.com