Dongfeng Cummins ISDe won the 2017 China Truck Users' Most Trusted High-efficiency Mid-engine Award
Discovery is a process. Trust is an attitude. On February 21, 2017, the second "Discover Trust - China Truck Users Survey and Selection" sponsored by China Truck Network held the award ceremony in Beijing. Dongfeng Cummins' ISDe4.5 series of medium-sized engines have gained a good reputation in the market for their excellent overall performance. In the end, they succeeded in winning the 2017 China Truck Users' Most Trusted Medium Engine Award.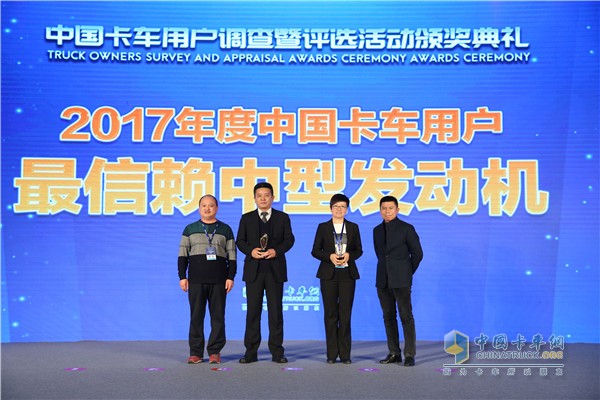 Dongfeng Cummins ISDe won the 2017 China Truck Users' Most Trusted High-efficiency Mid-engine Award

The award-winning ISDe4.5 series engine is the general name of the 4.5-liter displacement engine. The 4.5-liter diesel engine of Dongfeng Cummins adopts the same platform and adopts different training to achieve different market demands. The ISDe4.5 series has a rated horsepower range of 140P to 185P and a torque range of 550 Nm to 700 Nm. All models are designed with an in-line 4-cylinder design and are equipped with supercharged, medium-cooled intake air. Their power can be met with light weight. Demand for medium-sized trucks and special vehicles.

It is worth mentioning that ISDe4.5 series engine adopts BOSCH's third-generation high pressure common rail fuel system, which is the mainstream configuration of diesel engines at present, and can further improve low speed performance, fuel economy and cold startability, and reduce emissions. Its core component, the high-pressure oil pump, can directly take power from the crankshaft and pressurize the fuel to a high pressure of 1600 Bar, and then inject high-pressure fuel into the cylinder through the injection system. The high pressure of 1800 Bar can make the atomized oil droplets of the fuel finer and work. It can be burned faster and more completely, so that the engine can obtain more powerful power and better thermal efficiency.

In addition, the intelligent electronic control system of the ISDe4.5 series engine is perfectly matched with the optimized fuel system and combustion system to ensure optimal fuel economy and dynamic performance in different use environments.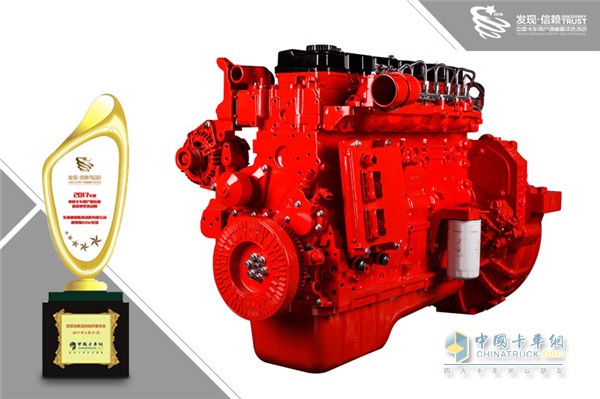 Dongfeng Cummins ISDe won the 2017 China Truck Users' Most Trusted High-efficiency Mid-engine Award

In order to collect real voices of users, the China Truck Network Survey Team visited more than 600 logistics companies across the country, including Bestway Huitong, Yunda, Yuantong, Shentong, Xintai Petrochemical, Feiteng Express, Hengchang Logistics, Kungan Road, and Cat Express. Park, more than 60 large-scale logistics companies, conducted actual visits to more than 20,000 users. Investigators' footprints spread across the Northeast, North, Central, East China, South China, Southwest, and Northwest China, and more than 30 provinces and cities. A total of over 20,000 questionnaires were collected. The survey team members used their footprints to travel across the country.

The second session found trust in the survey and selection activities, the China Truck Network conducted online polls and conducted in-depth research on the mainstream logistics companies and representative truck drivers across the country. Among them, the voting data of the Dongfeng Cummins ISDe4.5 series medium-sized engine network was 20154. During the survey team's actual visit, the user representative gave the ISDe4.5 series medium-sized engines with good overall performance such as reliability and economy.

Dongfeng Cummins Engine is extremely versatile in the industry and Dongfeng Tianjin, Tianlong, Liuqi, and JAC are all equipped. Xiao Yu, a customer from Zhuji, was only 26 years old and was driving a JAC light truck. Through his introduction, 10 of his friends became loyal users of Dongfeng Cummins ISDe. He is the local "opinion leader". When a reporter asked him why he recommended Weidongfeng Cummins ISDe engine to his friend, he told reporters that his boss was the first to use the Dongfeng Cummins ISDe series engine to pull beer, ran more than 1 million kilometers, he changed the oil pump, and later Run hundreds of thousands of kilometers. Xiao Yu said that the ISDe series engine is a "shock machine" in his eyes!

"No. 0 diesel for this month is 5, one liter. According to the Cummins Tianyuan system, the average fuel consumption detected is 15.31 litres/100km, 15.31 liters divided by 100 times 5.2, and the fuel consumption of the Dongkang engine is less than eight cents..." This is the voice from the customer end of the Dongfeng Cummins ISDe.

Dongfeng Cummins, as the first light, medium and heavy engine joint venture company established by Cummins in China, has always been based on the domestic market for commercial vehicles with outstanding products and technologies. Dongfeng Cummins' current products have achieved full coverage of diesel engines ranging from 3.9 to 13 liters, and the product line is very rich. As the country's fifth-generation ISDe engine that is highly trusted by users, it not only creates value for users, but also contributes to environmental protection in China.

Single Feed Enzyme,feed additive,dietary supplement

Sunson Industry Group Co., Ltd , https://www.sunsonchinaenzymes.com