Car company performance report: Geely (00175) a ride away, seahorse, Xiali lifeless
Recently, some Chinese listed car companies have issued 2017 annual performance forecast. From the nine companies that currently announce their advance notice, their performance in 2017 is basically in line with that of the main business; in combination, it is the 2017 Chinese auto market. A microcosm of the overall operation.

In 2017, China's auto market ended its rapid growth for many years. The elimination of "micro-growth" car companies has continued to increase, which can be seen in the 2017 performance of listed car companies.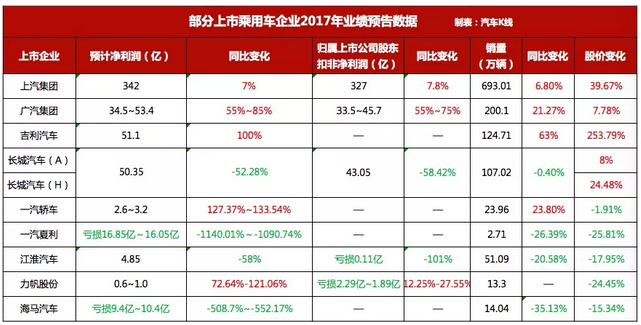 Among them, SAIC Group, GAC Group (02238), Geely Auto (00175) and other companies with outstanding sales performance in 2017 have a better performance in 2017; Great Wall Motor (02333) has a decline in sales profits, but the outlook is promising; Companies such as Jianghuai Automobile, Lifan Stock, and Haima Motors have seen signs of being marginalized.

A number of industry professionals have stated that China's auto market will enter a long-term "micro-growth" state, and that the phase-out of 2017, which is gradually accelerating, may produce results in the coming years.

Strong and strong, Geely won double affirmation

Among the nine publicly traded passenger car companies that have announced their performance announcements, SAIC, GAC, and Geely Automobile are undoubtedly "superior students" and have received double recognition in the automotive market and capital market.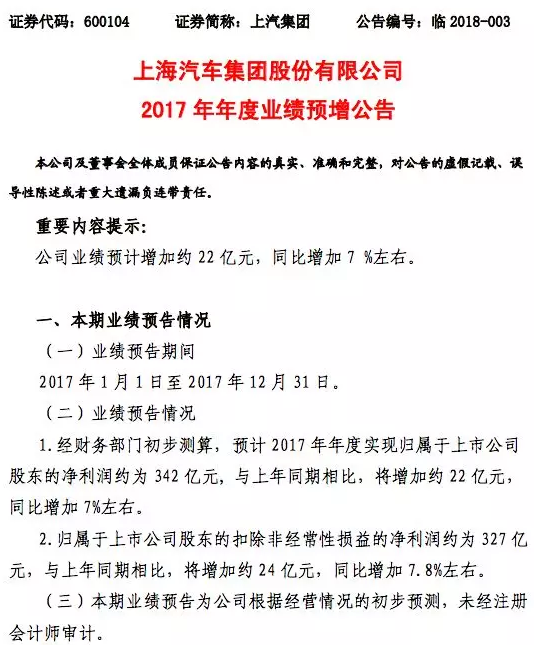 According to the announcement, SAIC Group's 2017 annualized net profit attributable to shareholders of the listed company is estimated to be approximately 34.2 billion yuan, an increase of 2.2 billion yuan over the same period of last year, an increase of approximately 7%; net profit attributable to shareholders of the listed company net of non-recurring gains and losses is About 32.7 billion, an increase of 7.8% year-on-year.

As an industry leader, SAIC's performance growth is a direct reflection of the steady growth of its main business. In 2017, its sales volume was 6,930,100 units, a year-on-year increase of 6.8%. In addition to the stability of SAIC-GM, SAIC-Volkswagen, and SAIC-GM-Wuling, the rapid development of SAIC passenger cars has played a significant role in SAIC Motor's performance growth.

SAIC Passenger Vehicle sales in 2017 increased by 62.27% year-on-year to 522,000 vehicles. Due to the excellent performance of SAIC Passenger Vehicles, the capital market is full of expectations for SAIC Group. Several investment institutions give them a rating of "buy" and "overweight." In 2017, SAIC Motor's share price rose by nearly 40% for the whole year, from 20 The multiplex/shares level jumped to more than 30 yuan/share.

GAC Group's situation is basically the same as that of SAIC. In 2017, its joint ventures and independent brands have achieved good results, which has led to a significant increase in their annual results. In 2017, GAC Group expects to achieve a net profit attributable to shareholders of listed companies of 3.45 billion yuan to 5.34 billion yuan, an increase of 55% to 85%.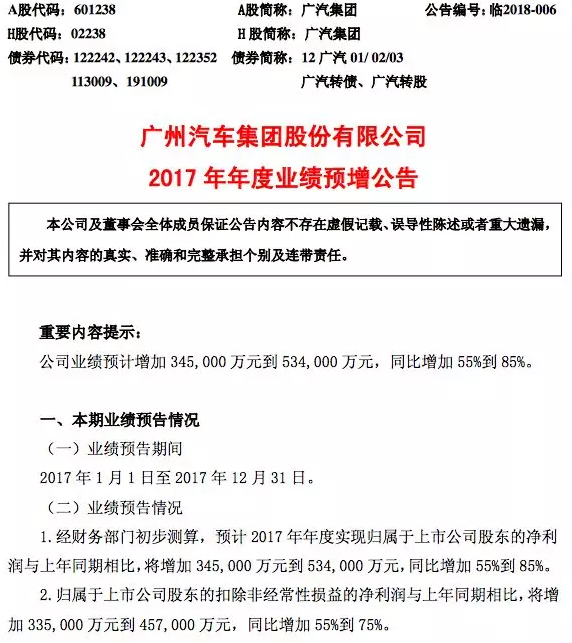 The net profit after deducting non-recurring gains and losses from shareholders of listed companies was 3.35 billion yuan to 4.57 billion yuan, an increase of 55% to 75%. In 2017, SAIC Motor sales exceeded 2 million vehicles for the year, a year-on-year increase of 21.27%. From sales to profits, GAC Group's growth has far exceeded the industry average.

However, the best-selling automaker in 2017 is still Geely. In 2017, its net profit is expected to be 5.11 billion yuan, which is double the year-on-year increase; and its sales volume has reached 12.471 million vehicles, an increase of 63% year-on-year, and surpassed its sales target of 1.1 million vehicles.

In the capital market, Geely Automobile can even describe it as "crazy". In 2017, its annual stock price "opens and closes" in general. From 7 yuan/share to 27 yuan/share, the annual increase is as high as 253.79%. Geely Automobiles have also been listed as blue chip stocks in the Hong Kong stock market.

Future business can be expected, Great Wall Motors follow-up bullish

Compared with Geely Automobile, Great Wall Motor's performance was slightly inferior, but even if the forecast for 2017 annual decrease was announced, Great Wall Motor's share price did not fall, reflecting the market's expectations for its follow-up business.

Great Wall Motor's announcement shows that its net profit attributable to shareholders of listed companies in 2017 is expected to decline by 52.28% to reach 5.035 billion yuan; net profit attributable to shareholders of listed companies net of non-recurring gains and losses is approximately 4.305 billion yuan, down 58.42% year-on-year.

In 2017, Great Wall Motor's sales volume grew rapidly for several consecutive years. Its annual sales volume was 1,072,000 units, which was basically the same as last year. In 2017, Great Wall Motors faced significant challenges, but the success of its high-end brand WEY saw the automotive market and capital market see the potential of its future business.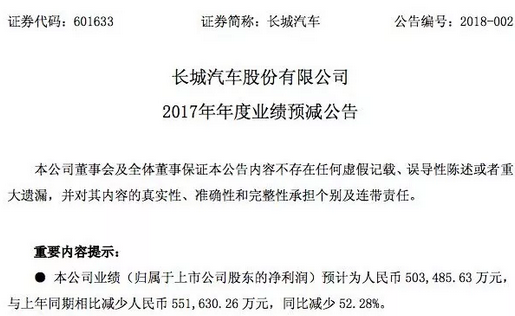 After the announcement of the performance reduction announcement on January 26th, on the next trading day, Great Wall Motor Hong Kong shares rose 2.45%, and A shares slightly fell 0.08%. Investors and institutions said that thanks to the increase in sales volume of WEY brand, Great Wall Motor's profit in the fourth quarter has obviously recovered, so it is optimistic about Great Wall Motor's 2018 performance.

FAW Car is similar to the situation of Great Wall Motor. However, compared to this, Great Wall Motor is looking forward to its own business, and FAW Car is looking forward to the overall reform of FAW Group. According to the announcement, the net profit of FAW Car in 2017 was 260 million to 320 million yuan, an increase of 127.37% year-on-year to 133.54%, turning profit into profit.

However, the growth of FAW Car's performance does not come from its main business. The income from the red flag has to account for a large part of its annual revenue. As for its main business revenue, most of it comes from the contribution of FAW Mazda, FAW Car's There are still problems with self-service.

Robbery and death of Haima Motors

In fact, due to the downturn in the auto market in 2017, investors have been psychologically prepared for the decline in the performance of passenger vehicle listed companies. However, the performance forecast of hip-hop vehicles has been shocked by many people.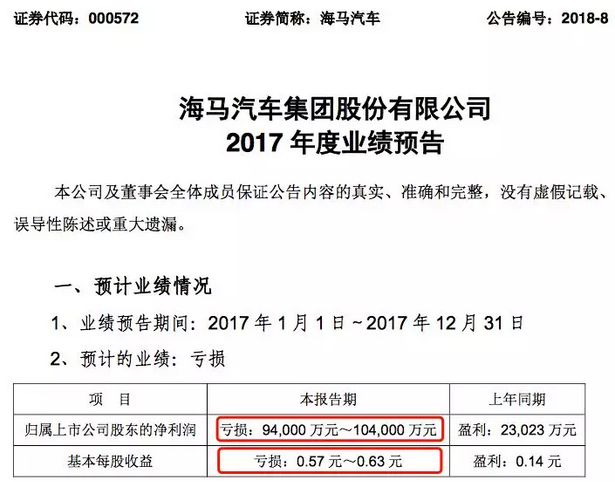 The data shows that Haima Motor's estimated 2017 annual net profit loss was 940 million yuan to 1.04 billion yuan, which was a 5 times decrease compared with the profit performance of last year. This is the first time since Haima Motor's loss occurred in 2010, and this is reflected in 2017. Sales fell more than 35%.

At the same time, Haima Motor's other businesses are rich and varied. Real estate, finance, and hotels seem to have been marginalized as the original main business vehicle, and investors have also seen this. After the performance announcement was announced on January 26, it On the 1st of the month, the cumulative decline of Haima Motor's share price over the four trading days exceeded 22%.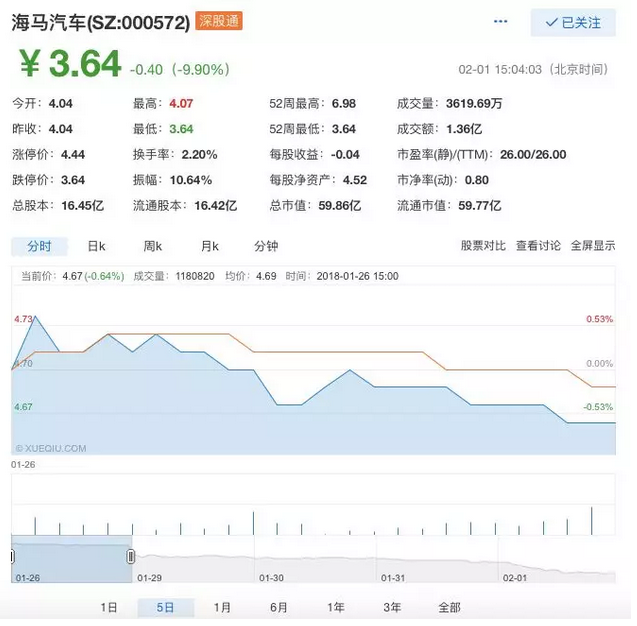 The same is true for FAW Xiali and Lifan. FAW Xiali is still losing money in 2017. Investors seem to have no hope for them. The only concern is when FAW Xiali will be able to sell and what kind of price it can sell.

As for Lifan's shares, although it appears to be profitable, a careful study of its performance in recent years can reveal that its main business suffered losses for three consecutive years from 2015 to 2017 and can only rely on selling houses, selling land, and selling assets to maintain its performance. increase.

JAC is more special, but its net profit has fallen sharply but it has remained profitable. However, non-profits have suffered a loss. Behind this is the impact of government subsidy for new energy vehicles. In the traditional car sector, sales of JAC vehicles have fallen by nearly 40%. New energy vehicles and future cooperation with VW have become their biggest expectations.

However, the wait-and-see mood of investors for new energy vehicles is also growing. It is still unclear where Jianghuai Automobile will go in the future.

It has Single axis and Multi axis processing functions,

Computer programming auto processing

Process tolerance. and process accuracy of machine are up to the industry standard.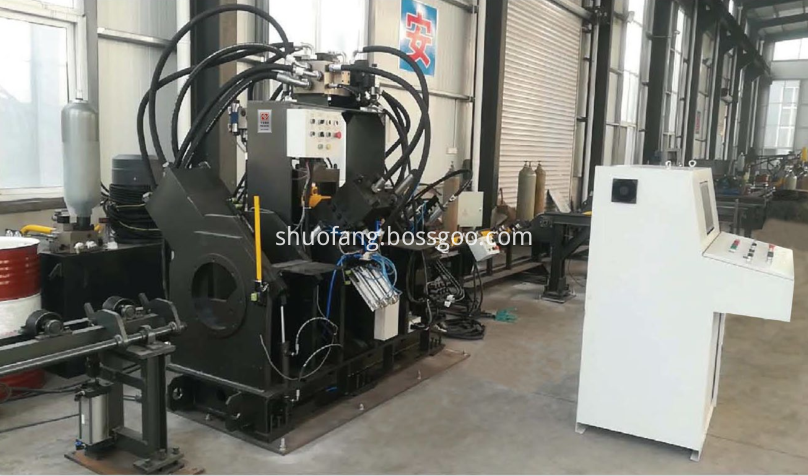 Beam Latching Machine,Steel Fabrication Machine,Beam Process Machine,Beam Drill Machine

Shandong ShuoFang Environmental Technology Co., Ltd. , https://www.chinafincnc.com