OEM Machining Precision Investment Steel Casting Parts
Model NO.: brake hanger

Surface Roughness: Ra12.5

Machining Tolerance: +/-0.01mm

Standard: ASTM. AISI. DIN. BS. JIS. NF. as. AAR

Certification: ISO 9001:2008, Ts16949/ISO14001/TUV

Heat Treatment: Quench and Temper by 2 Set Mesh Belt Furnaces

Machining Facility: 20 Machining Centers+50 Nc Machines

Inspection: Mt/Ut/Rt/100% Visual+100% Gage/CMM

Dimensions: OEM Customized/Customer′s Drawing

Tolerance: as Drawing

Trademark: LX

Transport Package: Plywood Case or Iron Pallet Packing

Specification: precision casting

Origin: Ningbo, Zhejiang, China

HS Code: 87081000

OEM Machining Precision Investment Steel Casting Parts  

1.Company Profile:

 

Specializing in the manufacturing of lost wax investment castings and finished products in carbon steel and alloy steel, our company is a world class manufacturer and supplier of investment castings in China. It consists of 2 major facilities, both steel casting foundry and CNC machining factory which enable us to supply both precision castings and finished products with an annual production capacity of over 20,000 tons, and the products are mainly exported to Europe, America, Japan and other destinations around the world.

The headquarters of our company is located in the famous industrial town Yinzhou, Ningbo in China. It is very convenient to be reached with an advantageous geographic position; it is located about 30 kilometers away from the Bei-lun Port which is the second biggest port in China, and about 15 kilometers away from the Lishe International Airport. The principal production base of the cast steel foundry is located in Qiucun Town, Fenghua, Ningbo, a distance of 15 kilometers away from the Headquarters. Our company was established in 1992, it covers a total area of 40,500 square meters and now has more than 500 employees, including 10 engineers and 60 technicians. The company owns a brand-new foundry, which covers an area of more than 30,000 square meters.

Our products cover a wide range of industries including train; railway, automobile; truck, construction machinery, mining machinery, forklift, agricultural machinery, shipbuilding, petroleum machinery, construction, valve and pumps, electric machine ,hardware, power equipment and so on. We are capable to produce products according to customers' drawings or samples, we focus on both carbon steel and alloy steel. Up to today, more than 100 raw materials and 5,000 kinds of different products have been developed and produced by us. We are familiar with the various industrial standards, such as Chinese GB, American ASTM, AISI , German DIN, French NF, Japanese JIS, British BS, Australian AS and Association of American Railroads (AAR ) and other industrial standards.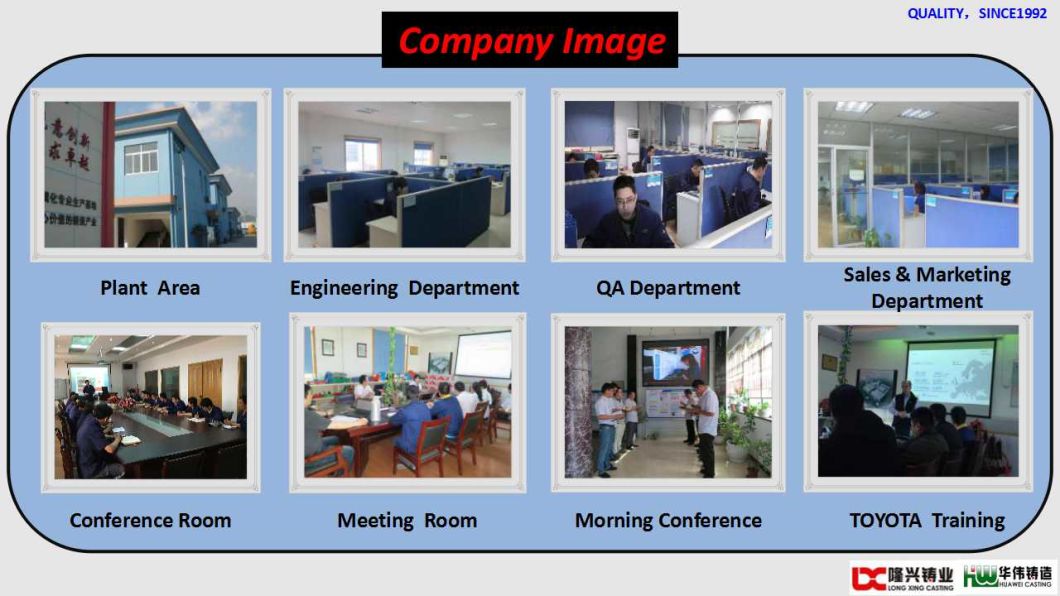 2. Our Mission:

Create the Best Value for Customers,Contribute for Equipment Manufacturing in the World.

3. Our Values:
Moving with the Times
Pioneering and Innovation
Harmony and Win-Win
Striving for Excellence
4.Human Resources:
Working Style: Sincere pragmatic , Â Persistent effort , Â Teamwork , Â Struggle&Transcend
Employee Image: Elegant style, Â Polite and courteous, Â Warmly and humble, Â Be neither Arrogance nor Inferiority, Â Preciseness and Professional.
                            Human resources
Casting Engineers
3
Material Engineers
1
Heat Treatment Engineers1
1
Machining Engineers12
5
Professional Technician
12
QA
28
Production Managers
55
Sales &Customer Service Staffs18
18
Direct Labor
390
                              Total :513

5.Annual Turnover:
Expected Target : Up to 2020, annual turnover exceeds 60 million dollars
                    Annual turnover(Unit: Million Dollars)
2005
$ 7.4m
2006
$ 9.0m
2007
$ 12.6m
2008
$ 16.0m
2009
$ 10.7m
2010
$ 15.5m
2011
$ 18.4m
2012
$ 17.6m
2013
$ 26.9m
2014
$ 32.6m
2015Â 
$ 34.1m
2016
$ 36.6m

6.Product Descripition:
| | |
| --- | --- |
| Description | Investment casting  |
| Material | Carbon steel, alloy steel, stainless steel |
| Process | Lost wax casting + cnc machining |
| Casting dimension tolerance | CT7 |
| Casting surface roughness | Ra 12.5um |
| Casting weight range | 0.1-90kg |
| Size | Max linear size: 1200mm, Max diameter size: 600mm |
| Machining Precision | Positioning accuracy 0.008mm, Rep. position. accuracy 0.006mm |
| Machining surface roughness | Ra0.8~6.3um |
| Max Machining Travel Of Spindle | 1900mmx850mmx700mm |
| Max Machining Turning Diameter | 830mm |
| Material standard | GB, ASTM, AISI, DIN, BS, JIS, NF, AS, AAR....... |
| Surface treatment | KTL(E-coating), Zinc plating, Mirror Polishing, Sand Blasting, Acid pickling,  black oxide, Painting, Hot galvanizing,Powder coating, Nickel plating |
| Service available | OEM &Â ODMÂ  |
| Quality control | 0 defects,100% inspection before packing   |
| Application | Train & railway, automobile& truck, construction machinery, forklift, agricultural machinery, shipbuilding, petroleum machinery, construction, valve and pumps, electric machine, hardware, power equipment and so on. |

7.Product Profile:
1. Marterial percentage

alloy steel:45% Â  Â  Â  Â  Â 
carbon steel:35%
stainless steel:10%
iron:10%

2. Casting weight percentage

0.1-5kg:40%
5-20kg:30%
20-40kg:20%
above 40kg:10%

3. Industry percentage

Components for train & railway: 25%
Components for automobile & truck: 30%
Components for construction machinery & forklift: 25%
Components for agricultural machinery:10%
Other machinery compponents:10%

4. Globa market share

United States:30%
Europe:35%
Japan& Korea:15%
Domestic market:15%
Other:15%

5. Production capacity

Production Capacity: 25,000 tons / year
The Current Production Output: 18,000 tons / year
Production Saturation Percentage:72%

8. Manufacturing  Process:
Process design⇒ Tooling making ⇒ Wax injection ⇒Wax pattern assembly⇒ Mold preheat ⇒ Wax removal ⇒Stuccoing ⇒Dipping Casting⇒  Mold shake out  ⇒Work piece cut-off ⇒ Grinding ⇒ Pack& transport ⇒ Final inspection  ⇒Machining ⇒ Heat treatment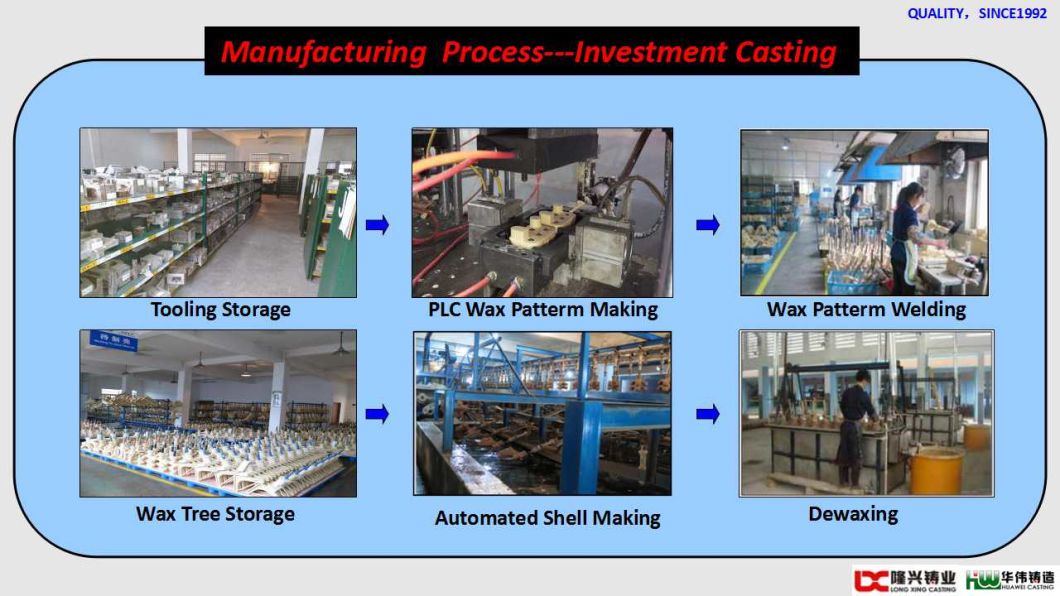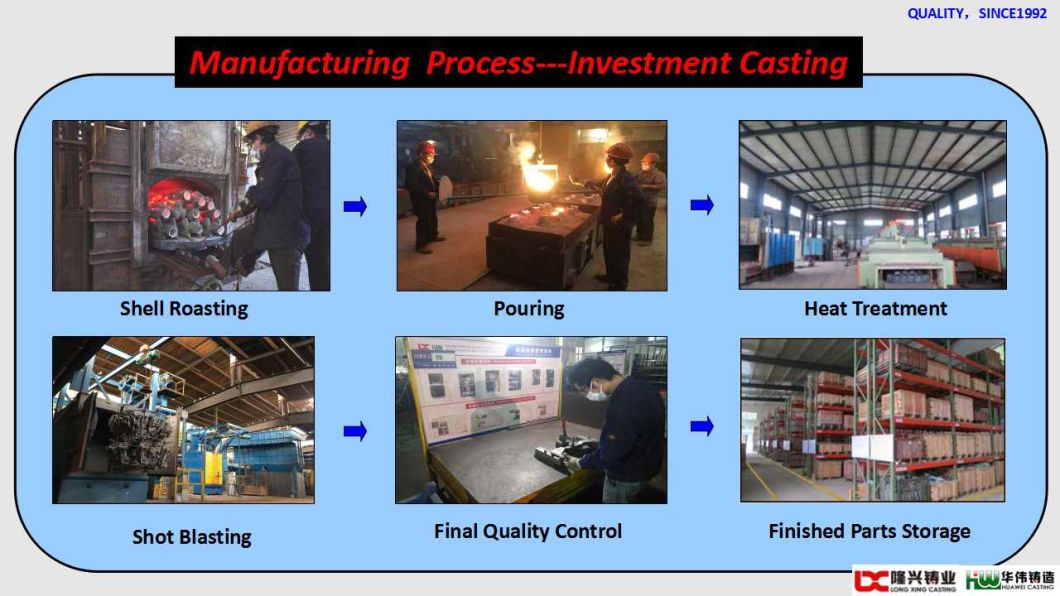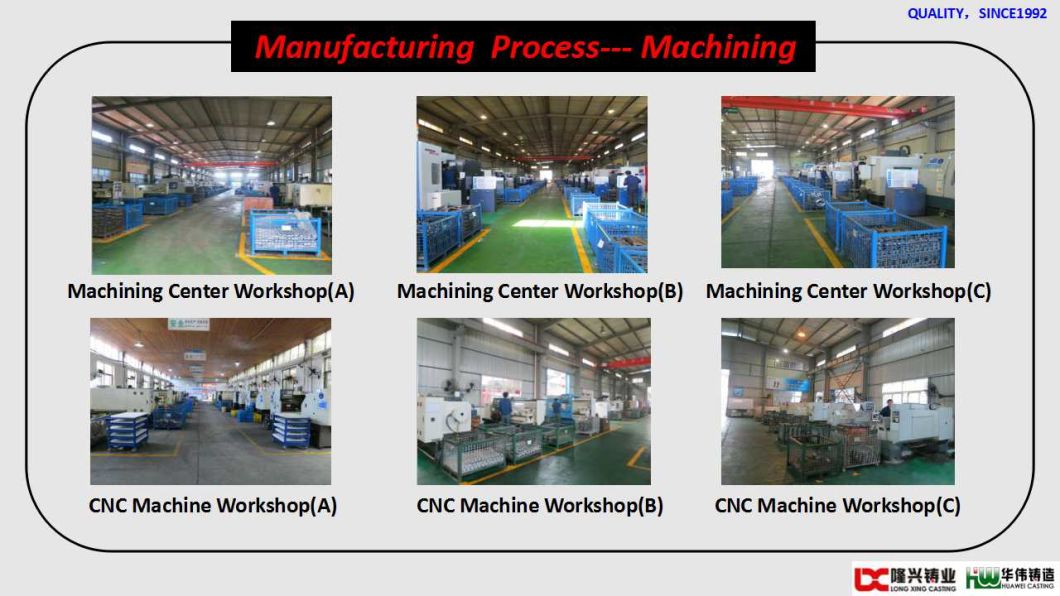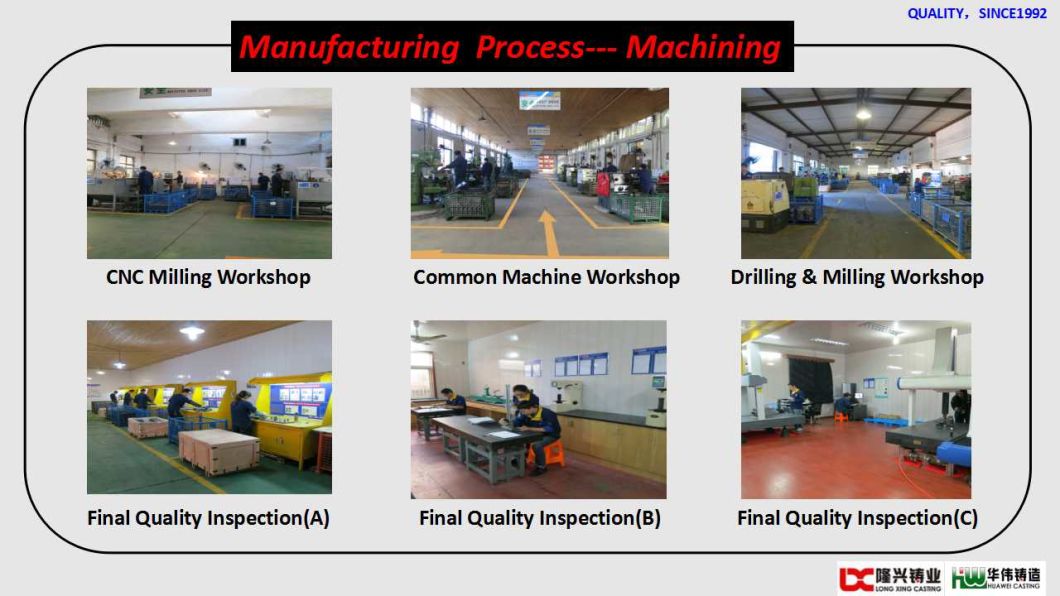 9.Major Machining Equipment List:
Machining Capabilities
Three-Axis turning centre
1 set
Four-Axis Horizontal Machine Center
1 set
Vertical Lifting Milling Machine
4 sets
Plane Milling Machine
2 sets
CNC Lathe Machine
27 sets
Engine Lathe Machine
6 sets
Radial Drilling Machine
4 sets
CNC Drilling Machine
5 sets
Four-Axis Vertical Machine Center
21 sets
CNC Milling Machine
6 sets
Universal Milling Machine
2 sets
Fase Milling Machine
3 sets
Oblique Guide CNC Lathe Machine
2 sets
Special Lathe
5 sets
Porous Drilling Machine
1 set
Cylindrical Drilling Machine
11 sets
10. Key Testing Equipments:
| | |
| --- | --- |
| 1.Direct-Reading Spectrometer | 12.3D Scanner |
| 2.Non-contact infrared thermometer | 13.Coordinate Measuring Machine |
| 3.Metallographic Microscope | 14.Surface Roughness Tester |
| 4.Tension Tester | 15.Ultrasonic Testing Machine(HS600) |
| 5.Low Temperature Chamber For Impact Specimen | 16.Coating thickness gauge |
| 6.Impact Test Machine | 17.Portable Magnetic Particle Tester |
| 7.Magnetic Particle Testing Machine | 18.Portable Hardness Tester |
| 8.Ultrasonic Testing Machine | 19.Hardness Test  Machine |
| 9.X-ray tester | 20.Rockwell Hardness Test Machine |
| 10.Surface Roughness Tester | 21.Contact infrared thermometer |
| 11.Video Measurement Machine | Â  |
11.We provide various test facilities as mentioned under:

1. Chemical analysis
2. Tensile strength
3. Elongation rate
4. Shrinkage rate
5. Impact test 
6. Harness test
7. Metallography
8. Non-destructive tests(including dye-penetrant, ultrasonic, magnetic particle and radiography)
9. Surface roughness test 
10. CMM test 

12.APQP and Inspection Report:

APQP-Casting  
Process Flow Diagrams
Control Plan
Process FMEA
Casting Process Instruction
Solidification Simulation Report
Heat Treatment Work Instruction
Casting Final Quality Control WI
Visual Inspection VI For Surface Irregularities
APQP-Machining 
Process Flow Diagrams
Control Plan
Process FMEA
Machining Process Instruction
Gauge List And Validation Plan
Final Quality Control WIÂ 
Inspection Report-Casting
Material Test Report(A)
Material Test Report(B)
Magnetic Particle Inspection Report
Ultrasonic Examination Report
Radiographic Test Report
Destructive Test Report
Coating Test Report
Visual Inspection Report
Casting Inspection Report
Inspection Report-Machining 
Dimensional Inspection Report(A)
Dimensional Inspection Report(B)
CMM Report
Other Quality Document 
PPAP Checklist
Measurement System Analysis Study
Process Capability Studies
Corrective Action Report(8D)
Packaging Instruction
13.Core Competition Advantages:Advantages 1:High Engineering and Technical Capability
An industry's top engineering technical team , with special skills and rich experience in product design, casting ,heat treating and machining fields.
Special Techniques Enable LONGXING to Be Competent with Those Difficulties at Wax Injection & Shell Making Procedures When Manufacturing the Parts with Inner-Sophisticated-Structures
Based on customer needs, in the beginning of product development, offer a solution, casting design, by structural component designed to casting parts, optimize the product design, then reduce costs and creating the best value for the customers.
Use casting simulation analysis system software 100%  to ensure the success of the one-time trial sample 
Advantages 2: Advanced Inspection Equipment & Strong Quality Assurance Capacity
Our testing equipments are not only leading in the industry, and also has a very complete range, they are   hardware guarantee to ensure us continue to provide high-quality products for our customers .
IQC, IPQC and FQC quality management team to control the whole production process, effectively prevent the generation of  unqualified product.
Our casting' PPM ≤1000 Machining ' PPM ≤600
Carrying out ISO9001 and TS16949 quality management system, full implementation of 6S and Kanban site management, which is software guarantee of the quality.
We sticks to the quality management philosophy that "Starting from the customer needs and ending with their satisfaction, focusing on customer demands and exceeding their expectations".
Advantages3: Good Customer Service
LONGXING can provide customers with good service, our staff have abundant commercial experience, good language ability, and rich foundry or mechanical background. We are committed to providing customers with accurate, careful and speedy service.
Quotation, Quality Complaints and Email Response get fast effective feedback within 48 hours.
We have carried out an information-based management which is driven by an ERP and PMC system, to ensure on time delivery rate: 95%
 Advantages 4: Powerful Deep-processing Ability   It is the best core competitive advantage different with others in the industry
Machining capability as the same as casting, the machining facility is fully independent from the casting foundry and has an independent management team and tailored business model to suit.
High technical content in machining, and casting with sheet metal, welding, assembling, LONGXING has the most competitive advantage, it is the best choice for you.
LONGXING has completed a transformation and upgraded to a deep-processing manufacturer with expanded production capabilities and is committed to be equipped with other capabilities except casting, we focus on developing terminal products for top-end markets.

14. Contact Information:



 

 

Precision Machine Tool Bearings are mainly used in machine tool, main shaft, motor spindles, ball screw, rotary tables, etc. Precision Angular Contact Ball Bearings can reach P4S level of rotational accuracy, and precision cylindtical Roller Bearings can reach SP, UP level. Due to use optimization advanced structure, and special materials of rolling elements and cage, our products have characters of high precision, high speed, low vibration, long service life, etc.

Precision Machine Tool Bearings

Precision Machine Tool Bearings,Spindle Bearing ,High Speed Bearings ,Linear Bearing

ZHEJIANG XCC GROUP CO.,LTD. , https://www.xccbearing.com